FBN "Invite to Listen" cards
fbn@fbnradi
o.com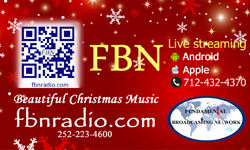 FBN has some beautiful Christmas ITL cards that have all the different ways to listen to FBN on the front and the plan of salvation on the back. These are an ideal way to share FBN with a friend or loved one. If you would like some of these lovely Christmas ITL cards, contact us!

Email us at:

fbn@fbnradio.com

or Call us at:

252-223-4600
Christmas Cantata Schedule


Christmas Cantatas will broadcast weekdays at 7:05pm. Saturday's program begins at 10:05am and Sunday's cantata is at 9:05pm. The schedule is listed below:

December 17 - Jesus Is the Light
December 18 - Christmas on the Air
December 19 - Star of Hope
December 20 - While Shepherds Watched
December 21 - Born to Die
December 22 - He Gave Everything
December 23 - Amazing Grace
December 24 - The Gift of a Lifetime
December 25 - From Christmas to Calvary

FBN Mobile App
FBN radio has a free app for Android and Apple devices. Go to your app store and search for "FBN"...install and listen!

* Tune In Radio App still available

Tune In Radio Instructions
*

Join FBN's text club for ocasional updates from FBN. Text "FBN" to 84444.




712-432-4370 - FBN Instant Audio